Matrimonial and Family Law
Separation and Divorce can be a very confusing and upsetting time for all concerned, raising a whole series of questions and problems needing sensitive and expert handling if distress and disruption is to be minimised, particularly when children are involved.
No two cases are the same and there is, often, no simple answer. Each case depends on its own facts and we understand that maintenance requirements, housing, pension and capital needs, and arrangements for the children all differ from case to case.
Good advice, from the outset, together with sympathetic handling, can do much to bring about an early and economic conclusion for everyone involved.
With 35 years` experience in Family Law Stephen Gallagher, a member of the Law Society`s Family Law Accreditation Scheme and of "Resolution", is dedicated to providing such advice.
OUR FEES
It is difficult if not impossible to provide a meaningful estimate at the outset because, as we say above, no two cases are alike so, to provide clarity and certainty, we offer an initial, no-obligation fixed-fee meeting of 60 minutes for £100 plus VAT for all appropriate family matters.
After that, we will be able to advise you on further fees depending on your individual requirements.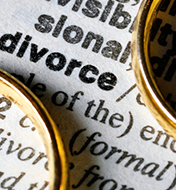 Divorce of Marriages/Dissolution of Civil Partnerships
Except in the case of annulment (to declare a marriage null and void e.g. because of bigamy), Divorce proceedings cannot be commenced until at least 12 months have elapsed from the date of the marriage.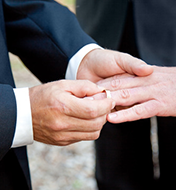 Civil Partnerships
Sam-sex partnerships are able to register their relationship through a formal civil ceremony known as a Civil Partnership the effect of which is that partners acquire various rights and responsibilities towards each other, both during the relationship and on separation.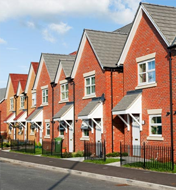 Capital, Property Adjustment and Pension Sharing
In deciding how to divide the assets, the Court (and solicitors whilst attempting to negotiate a settlement) must take into account, amongst other cases, the decision in White -v- White. The starting point is that the assets of the marriage are to be divided equally.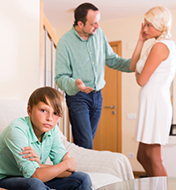 Child Arrangement Orders Relating to Residence & Contact
The welfare of any children in a relationship is, rightly, of absolute importance to all involved. Arguments over children tend to be the most confrontational in family proceedings and we believe that by helping you understand the Court's approach we can work together to get the best outcome for you and your children.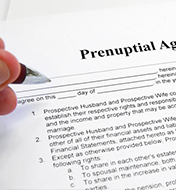 Pre-Nupital, Post Nuptial and Pre-Registration Agreements
Clearly, there is no good in investing time, effort and expense in securing an Agreement only to find that if it is unenforceable. The difficulty is that we will not know whether or not it is enforceable unless and until the Court is asked to consider it usually on Divorce and, of course, we hope that this will never occur.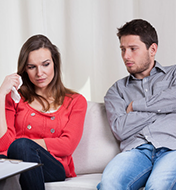 Cohabitation
The idea of a 'common law' husband or wife is a myth. It is one of the less attractive part of a solicitor`s duty to have to tell a client who has been living with their partner for many years that their rights to seek an interest in the family assets are limited, certainly far more so than if they had been married to each other.
Testimonials
I would like to thank you for your assistance in handling my Divorce and Family matters. Stephen Gallagher successfully resolved all transactions tactfully and professionally and I would not hesitate to recommend Stephen and the services of Neale Turk Rochfort to friends and family.

I would like to thank Stephen Gallagher for the way he handled my recent divorce.  What should have been an amicable divorce turned out to be anything but. Stephen was there with help and professional advice that brought about a very satisfactory (to me at least) outcome. Thank you Stephen

Stephen Gallagher`s professionalism and manner have helped me to navigate through a very difficult period in my life, one which I hope I can put behind me. I will recommend Neale Turk Rochfort for sound advice and representation.

Neale Turk Rochfort`s divorce services were recommended to me. Stephen Gallagher was most professional and "upfront", advising me what I needed to do and giving me space to make difficult decisions. He kept me updated every step of the way and was always available for advice. He made a very stressful time in my life palatable. I would wholeheartedly recommend him to anyone in the same unfortunate position

At a very upsetting and stressful time I need advice from a Family/Divorce Lawyer and had heard of Stephen Gallagher through a friend. Stephen was extremely helpful, professional and gave constructive advice. I am now much more confident with how to proceed and will certainly go back to him as and when the time comes for me to take matters further. I would thoroughly recommend him to anyone in a similar situation.

Unfortunately I had to go through the experience of divorce. A trusted friend of mine recommended the services of Stephen Gallagher. I met him for a free 30minute consultation and was so impressed that I instructed him there and then to act for me. I truly could not have dealt with this terrible time in my life without the knowledge, experience and empathy that I received not only from Stephen but also his secretary and staff. I would, without doubt, suggest that anyone in the same situation as me, needing not only a professional service but also a caring solicitor should consult Stephen Gallagher.

Having the requirement to obtain legal advice on my pending divorce I reviewed several local divorce services and I immediately felt comfortable with NTR's approach and professionalism. Stephen Gallagher listened to my situation and provided straight forward guidance throughout the process, always ensuring that I knew the options available to me to make difficult decisions.  I was kept up to date by email which was most convenient for me. Stephen gave me a measure of control and confidence at a stressful time and I would highly recommend him to anyone who needed professional assistance of this kind.

I have found dealing with solicitors and the legal profession generally frustrating and expensive since a complicated divorce over a decade ago so, when I needed more legal advice on a Family matter recently, I looked around begrudgingly. Stephen Gallagher `s response to a short request for help that I sent to several solicitors was frank, disarming, and engaging and I  found his manner, his confidence, and his objectivity really refreshing.  I found Stephen's appraisal of the court's options (and mine in my preparation and submissions) was direct and honest - even if I  didn't`t always like the advice he gave. I don't expect to have another need for legal help soon - but if I do, then I'll revert to Stephen - he keeps it short, uncomplicated, and very real. All of which are of really good value.

I consulted Neale Turk Rochfort in relation to a very sensitive family matter. They were extremely caring, gave me most helpful advice and secured a very good result. I commend their services.

Having been through a rather stressful ending to my marriage Stephen from Neil Turk Rochfort helped make the much needed divorce between myself and now ex-wife as simple, and painless as possible. Following the divorce and outstanding advice Stephen further helped to acquire a clean-break order between myself and my ex-wife. While this process took a long time, Stephen did all he could to keep me updated with the court process. Neale Turk Rochfort could not have done a better job and helped me in every way they could. I will be using them again for all legal situations

I would like to take this opportunity to thank you for helping me with my recent legal complications brought about by my ex-partner. From the start I found you very reassuring and helped me put my mind at ease. The whole process was very swiftly concluded and kept the stress to an absolute minimum. I am very sure at some point in the future I will need your advice again and will not hesitate to come and see you. Thank you so much.

This is to say thank you so very much for making my divorce a lot easier for me to handle. I was a very frightened lady in the beginning, wondering how I would live and manage if I had to sell my home after 46 years. You gave me the confidence and faith that things would turn out alright in the end for me as proven.

I would just like to say that I found Stephen Gallagher's advice most helpful and reassuring during a difficult divorce settlement. His prediction as to the outcome was correct and his guidance invaluable. Even after the hearings he was most helpful at no extra cost to myself, for which I am grateful... Thank you.

I wanted to pass on my sincere thank to Stephen Gallagher for all his help through what has proved to be an extremely stressful and emotional time in my life. Stephen's professional, calm, empathetic manner and nature have helped me immensely and I would not have been able to deal with what I have without him. If family and friends ever need legal services in the future, I will most definitely recommend Stephen and Neale Turk Rochfort. Thank you all again.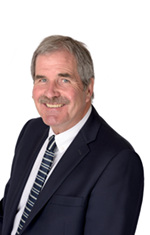 STEPHEN GALLAGHER
Head of Family Law